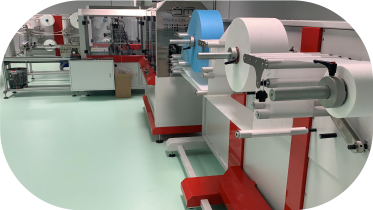 BEMED produces 2 million
surgical masks per month
A factory in Bragança that produces surgical masks and ffp2 respirators is already operating.
The unit, with two automated production lines, has the capacity to produce around 2 million masks per month. It is one of the few in Portugal where ffp2 masks with a valve are produced.
Luís Afonso, who made the investment in the industrial area of ​​Bragança, bet on a unit with particular characteristics of air filtration for better product quality.
"It is one of the few in Portugal and is distinguished both in the Iberian Peninsula and in the whole of Europe, as it is one of the few in Europe that produces surgical masks and ffp2 respirators in a pharmaceutical environment, because we have production in a clean room, with air filtration and positive pressure , with air quality category, which is very high, something that does not happen in the rest of the production industry of this type of products ", he clarified.
For now the bet is on the national market, but the businessman says that selling abroad is being explored.
"We are already making proposals for the foreign market, we have some negotiations underway outside Portugal, the United States, Europe and Africa, however, at the moment we are supplying the Portuguese market, because it still consumes an important volume of masks" , he stated. But being "a differentiated product" they will try to bet in particular on the northern European market with "a higher level of demand and another level of prices".
Luís Afonso explains that Bemed, a brand adopted by the company Novavet for this product, was an investment thinking not only in the short term in which the masks became the daily use of citizens.
"Due to our investment in the quality area, we are expecting that we will differentiate ourselves in the future from the remaining installed competition, whether in Portugal or in the rest of Europe. We have already invested with the thought put a few years ahead after the pandemic passed. At that time and people were looking at the quality of the products, our brand will be in the first line of choice, believe me ", he believes.
The unit may in the future be extended to the production of other personal protective equipment.
The investment was 600 thousand euros, to adapt a warehouse that was used before to store animal food. The unit was co-financed through the Productive Innovation Incentive System – Covid 19.
Brigantia, Journalist Olga Telo Cordeiro